LASER HAIR REMOVAL Fairfax, Virginia
If you're looking for Laser Hair Removal in Virginia, look no more! Laser hair removal is a cosmetic procedure that uses concentrated beams of light to target and destroy hair follicles, preventing or delaying hair growth in the treated area.
This popular method for long-term hair reduction or removal is available at Impression MediSpa in Fairfax, Virginia, where we use the Palomar Stalux laser.

Customized treatment plans:
We understand that every individual is unique, which is why we tailor our laser hair removal treatments to suit your specific needs and skin type.

Comfortable procedure:
The Palomar Starlux system incorporates a cooling mechanism to minimize discomfort during the treatment, ensuring a more pleasant experience. If it's discomfort you're worried about, choose the Palomar Starlux (Intense Pulsed Light) laser treatment. We've seen this laser technology work very well on dark and coarse hairs.
LASER HAIR REMOVAL TREATMENT FAQ
How Laser Hair Removal Works?
Laser hair removal is a non-invasive procedure that offers a long-lasting solution to unwanted hair. Hair removal lasers are specially designed to target hair follicles that are in the active growth phase and the laser sends high-frequency light energy to destroy the follicles. The science behind this is known as selective photothermolysis, a fancy way of saying what we just explained with the naked eye, we see the laser pulses as only a beam of light.
Your treatment plan is designed for steady progress, with every phase promptly implemented.
Our lasers are equipped with a ChillTip for maximum comfort. This special tip reduces the feeling of heat that causes irritation and discomfort. Topical anesthetics can also be used if the discomfort of laser light is too much. Be sure to ask us for more info if you are sensitive to the laser.
What Does the Treated Area Look Like?
The area treated may have mild redness, fortunately most patients, this mild redness does not last long. The length of irritation depends on your skin's sensitivity. Schedule your extracurricular activities 30 to 60 minutes after your Impressions appointment.
Which Areas Of The Body Can Be Treated With Laser Hair Removal?
Laser hair removal can be performed on various areas of the body, including the face, legs, underarms, bikini line, chest, back, and arms. It is essential to consult with a qualified practitioner to determine if the treatment is suitable for the specific area you wish to target.
Is Laser Hair Removal Permanent?
Other hair removal methods are not as effective as a laser. Laser hair removal can provide long-lasting results by removing hair itself, but it is not always permanent. It typically offers a significant reduction in hair growth, and many people experience long periods without regrowth.
However, some hair may eventually grow back, albeit finer and lighter in color. Periodic maintenance laser treatments sessions may be necessary to maintain the desired results.
How Many Sessions Do I Need?
The number of laser hair removal sessions needed varies based on individual factors such as hair type, color, and the skin area. Depending on your biology and the location, we recommend five to six weeks or seven treatments over a year to reduce hair growth. Treatments are spaced out every five to seven weeks, because of the growth cycle, we want to time your appointments during most of the follicles' "active" phase for maximum effect.
Does Laser Hair Removal Hurt?
Laser hair removal may cause mild discomfort or a sensation similar to the snapping of a rubber band against the skin. However, most people find the procedure tolerable. Some clinics doing laser treatments may offer numbing creams or cooling techniques to minimize any potential discomfort during the treatment.
Is Laser Hair Removal Safe?
When performed by a trained professional, laser hair removal is considered safe. However, as with any cosmetic procedure, there are potential risks and side effects, such as temporary skin irritation, redness, or mild discomfort during the treatment. It is crucial to choose a reputable clinic and follow the pre and post-treatment instructions provided by the practitioner.
Are There Any Pre-Treatment Preparations?
Before laser hair removal, it is generally advised to avoid sun exposure, tanning beds, and self-tanning products. Additionally, you may be instructed to shave the treatment area a day or two before the session and avoid waxing or plucking the hair. It is essential to follow the specific instructions provided by your practitioner.
Are There Any Post-Treatment Precautions?
After laser hair removal, it is common to experience temporary discomfort, redness or mild irritation in the area. Your practitioner may recommend using a soothing cream or ice packs to alleviate discomfort. It is crucial to protect the treated skin from sun exposure and avoid activities that may cause excessive sweating or irritation for a few days.
Schedule Today at 703-273-0001 in our new Fairfax, Virginia Office!
FULL BODY SPECIAL $3500 – Includes 6 treatments Full Legs, Bikini, Arms, Face, Underarms
Why Choose Laser Treatment at Impressions Medspa?
Safe and Effective Treatment: Our team of highly skilled and experienced professionals uses advanced laser technology that is safe for all skin types.
Advanced technology: We utilize the Palomar Starlux system, known for its effectiveness and reliability in delivering excellent results.
Long-lasting Results: Unlike temporary hair removal methods, laser hair removal offers long-lasting results. By targeting the hair follicles directly, the laser disables their ability to produce new hair growth. Say hello to smooth skin that lasts!
Precision and Speed: Our cutting-edge lasers provide precise targeting, allowing us to selectively treat unwanted hair while leaving the surrounding skin untouched. This results in faster treatment sessions, making laser hair removal a convenient option for your busy lifestyle.
Comprehensive Coverage: Our laser hair removal treatments can be performed on various areas of the body, including the face, underarms, arms, legs, bikini line, back, and more. Whether you're looking for a touch-up or full-body treatment, we have you covered.
Personalized Treatment Plans: At Impressions MediSpa, we understand that every client is unique. During your initial consultation, our experts will assess your skin type, light or dark hair color, and desired outcome to create a personalized treatment plan tailored specifically to your needs.
Comfortable Experience: We prioritize your comfort throughout the entire laser hair removal process. Our advanced technology includes built-in cooling mechanisms to keep your skin cool and minimize any potential discomfort during treatment.
Professional and Caring Staff: Our friendly and knowledgeable staff are dedicated to providing exceptional care and delivering outstanding results. We are here to address any concerns, answer your questions, and guide you through each step of the laser hair removal journey.
Schedule Today at 703-273-0001 in our new Fairfax, Virginia Office!
Say goodbye to endless shaving, painful waxing, and ineffective hair removal creams. Get ready to embrace the confidence of laser energy and freedom that comes with silky-smooth skin. Book an appointment at Impressions MediSpa today!

FULL BODY SPECIAL $3500 – Includes 6 treatments Full Legs, Bikini, Arms, Face, Underarms
LASER HAIR REMOVAL PRICING
| | | | |
| --- | --- | --- | --- |
| BODY AREA | Per treatment | Package Of 3 | Package of 6 |
| UPPER LIP | $75 | $200 | $360 |
| CHIN | $75 | $200 | $360 |
| SIDEBURNS | $75 | $200 | $360 |
| FULL FACE FEMALE | $175 | $395 | $695 |
| NECK | $100 | $270 | $480 |
| BETWEEN BROWS | $45 | $121 | $216 |
| UNDERARMS | $100 | $270 | $480 |
| FOREARMS | $140 | $375 | $675 |
| FULL ARMS | $200 | $540 | $960 |
| BREASTS | $75 | $200 | $360 |
| BACK (LOWER OR UPPER)      | $140 | $375 | $675 |
| FULL BACK & SHOULDERS | $350 | $950 | $1,600 |
| SHOULDERS | $100 | $270 | $480 |
| ABDOMEN (LINE) | $100 | $270 | $480 |
| ABDOMEN (FULL) | $140 | $375 | $675 |
| BIKINI LINE  | $100 | $270 | $480 |
| BIKINI (BRAZILIAN) | $150 | $405 | $720 |
| BUTTOCKS | $150 | $405 | $720 |
| UPPER LEGS | $200 | $540 | $960 |
| LOWER LEGS | $200 | $540 | $960 |
| FULL LEGS | $300 | $810 | $1,440 |
| HANDS / FINGERS/TOES/FEET | $75 | $200 | $360 |
| CHEST | $190 | $490 | $890 |
**If there is a body area that is not listed please give us a call for a free consultation and price quote.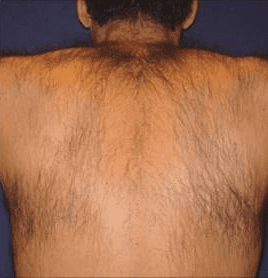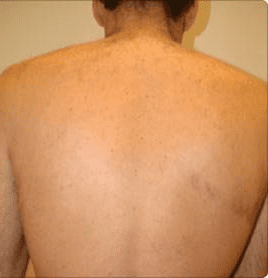 Have a question? Call or email me​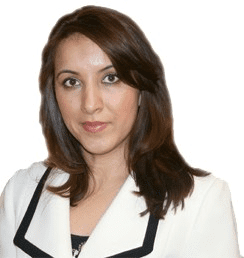 MSN, FNP AESTHETIC DIRECTOR & ADVANCED INJECTOR
Sign up for new, special offers and updates from Impressions MediSpa!
I have been a customer of Impressions for many years and I love all of their services. They are the nicest group I've ever dealt with and very fair price wise