One of the Top Medispas in Virginia
Ranked best in DC magazine
Platinum account for Allergan the makers of Botox and Juvederm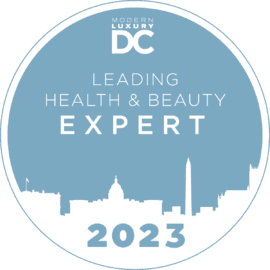 Why Choose Impressions Medispa?
We hold our clients privacy to the highest standard. Here at Impressions Medi Spa we follow the HIPPA Laws. All your medical information & treatments will be kept confidential.
Your Comfort: If at any time during your treatment, you do not feel comfortable with the temperature, pressure or technique being used, please do not hesitate to advise your service provider. They will appreciate being able to make your visit more comfortable.
Physical Concerns: Concerns relating to pregnancy, impaired mobility, allergies, recent surgeries or medical conditions should be discussed with our physician or providers prior to your visit.
Shhh… We respectfully request that cell phones and PDAs be turned off. It is for your peace of mind as well as those around you. As a courtesy to our guests, we ask that children not be brought to the spa. The minimum age for spa services is 12. Children under 18 must have a parent present.
Appointments and Cancellation : Please book appointments two weeks in advance when possible. We request that appointments be held with a credit card, gift card or pre-paid credit. We require 48-hour notice for date change or cancellation. A $75 cancellation/no show fee will be charged if you cancel in less than 48 hours or miss your appointment.
Gift Cards:You may purchase gift cards in various denominations at Impressions Medi Spa!
Prices: All service & treatment prices and sale are final. All sales on skincare/cosmetics are final. There are no refunds. Booked treatments with our Medical Providers including Fractional CO2, Sculptra and Liquid Face lifts have a no refund policy for the deposited amount of $500. Patients that cancel treatments for these designated medical services will forfeit $500 deposit. 
We here at Impressions Medi Spa do our very best to help all of our clients achieve the results they desire & look their very best. Due to the fact that every person's physiology is different, there is no guarantee of results.

Experienced
Your health is your most important asset. You should entrust it only to the best professionals.

Personalized Treatment
Treatment choices perfectly match your goals of treatment complications with early intervention.

Quality and Safety
All team members at Impressions have been trained thoroughly to assist in any situation.

Flexible
Your treatment plan is designed for steady progress, with every phase promptly implemented.
Cash
Visa
Master Card
American Express
Mariam is an Aesthetic Nurse with a Bachelors in Nursing from Stratford University (cum Laude) and a Bachelors from Virginia Tech. She is an expert in laser technology and has over 10+ years of experience in cosmetic dermatology and aesthetic medicine.than her.
read more
Monday – Friday 8:00 am – 6:00 pm
Your treatment plan is designed for steady progress, with every phase promptly implemented.
Your treatment plan is designed for steady progress, with every phase promptly implemented.
Sign up for new, special offers and updates from Impressions MediSpa!
Love impressions! I have used their services for few years now. Mariam the nurse is amazing in injections and Botox. I am not one to be easily persuaded by promises however I see results here and only trust Impressions with my beauty needs.
Impressions MediSpa, we want every experience to be a positive lasting impression.
Only highly trained healthcare professionals will work with you using FDA-approved and results-oriented techniques and products.The results…radiant, youthful, flawless skin!