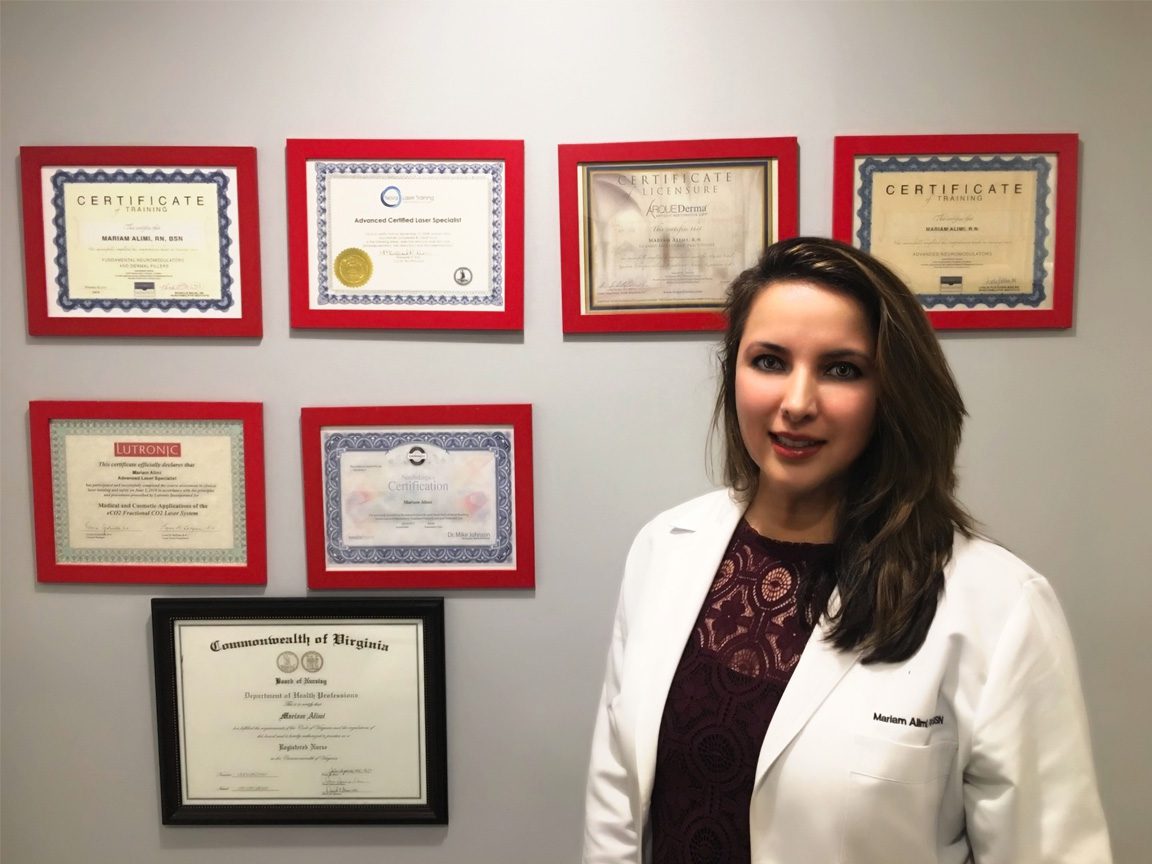 Aesthetic Nurse Practitioner with a Master's in Nursing, FNP from Purdue (cum Laude) and a Bachelors in Nursing from Stratford University (cum Laude) and a Bachelors from Virginia Tech. She is an expert in laser technology and has over 14+ years of experience in cosmetic dermatology and aesthetic medicine. Mariam is certified in Botox & Dermal Fillers including Advanced Techniques using Restylane, Restylane Lyft, Voluma, Juvederm XC, Juvederm Ultra Plus, Volbella, Vollure, Radiesse, and Sculptra. Mariam is a Licensed in ArqueDerma® Artistic Restoration Lift® and InstaTox®. She has completed an intense training through Injectability Institute home of ArqueDerma® technique. Mariam is committed to restoring, sculpting and enhancing ones natural beauty through non-surgical techniques.  She has worked with the notable Dr. Zack Ally on artistic facial rejuvenation, profile balancing, and beautifucation in London and has worked with prominent Brazilian doctors for facial and body contouring with the use of dermal fillers. Mariam has extensive experience using Sculptra for Body sculpting including treating hip dips, cellulite and buttock augmentation.
She is certified in IPL/BBL lasers, Fractional CO2 Resurfacing, ND Yag, Erbium Resurfacing, Ulthera, RF Skin Tightening, Sculpsure, Microneedling and Chemical Peels. She specializes in skin care for various conditions including acne, hyper pigmentation, melasma, wrinkles, acne scarring, stretch marks, scars, rosacea and veins.
Mariam has extensive experience using lasers and chemical peels safely on skin of color and ethnic skin. Mariam is certified in Stem Cell Platelet Rich Plasma (PRP) Injections for Hair Restoration, PRP Facial, Facelift, Skin Rejuvenation and Hair Loss. Mariam combines her knowledge of facial anatomy, caring nature, and clinical training in order to achieve beautiful results for patients in a safe and comfortable setting.
Mariam is a member of the Association of Medical Aesthetic Nurses, American Society for Laser Medicine and American Nurses Association. She is a native of Northern Virginia and her hobbies include spending quality time with her family, nature hikes, traveling and staying current on the latest advancements & research involving aesthetic medicine.
I have had a chicken pox scar on my face for years. I called Impressions and spoke to Mariam and really appreciate how patient she was. I had many questions for her and even though I could tell the office was busy she stayed polite and didn't rush me. I told her I would think about and call back. When I called the next day I spoke to another girl in the office Milissa. I have to admit is was pretty first class as she knew I had called in and had a general idea about what I wanted to do. I confirmed my appointment and then went in. The office was nice and inviting. I received a proper welcome and didn't have much a wait time. Treatment went great. I felt comfortable the whole time. I am not a huge reviewer and am new to yelp but everyone this place honestly rocks!
Name:                                                               Mariam Alimi
Address:                      10560, Main Street Suite, 307,                                                                            Fairfax VA 22030
Speciality:                                         Aesthetic Director &                                                                        Advanced Injector
Degree:                                                                  Virginia Tech