IPL or Photofacial in Fairfax, VA
Impressions Intense Pulse Light (IPL) or Photofacial in Fairfax, Virginia. As we age our skin reflects the damage from the sun and elements of wear and tear of daily life. With more sun exposure our skin may develop sun spots, broken capillaries and discoloration so in response, we often seek aesthetic procedures to restore a fresh and youthful appearance.
At Impressions Medi Spa in Fairfax, we use the Palomar Starlux laser for IPL or Photofacial treatments which are non-invasive and an effective way to remove brown and red pigmentation on the skin. Results include:
improvement in dull complexion
reduction in pore size and redness of skin (rosacea)
evens out skin tone with little or no discomfort
lightens and removes sun spots, dyschromia and discoloration
Your treatment plan is designed for steady progress, with every phase promptly implemented.
How Does The Technology Work?
At Impressions with the Photofacial or IPL in Fairfax, Virginia the nurse applies in a series of gentle pulses over the treatment area. Without damaging the skin, the light penetrates the sub-surface skin layers and is absorbed by the blood vessels or by pigmentation. The heat impairs the vessel or lesions, and the body begins its natural healing process.
Is It Safe and How long Does it Take?
IPL or Photofacial at Impressions laser is FDA Approved and the lights gentle energy parameters assure safe, effective treatment. The laser precisely heats their target. The treatment time ranges from 15 minutes to 20 minutes for a Full Face. With Impressions in Fairfax our skin laser treatments including IPL or Photofacial are conveniently located minutes from Tysons Corner, Reston, Springfield, Alexandria and Arlington.
Most people experience some redness, similar to sunburn in the treated area shortly after each treatment; this should not interfere with your normal routine. Sunscreen (SPF 30 at least) and minimal exposure to the sun on all areas being treated are imperative for the duration of these treatments.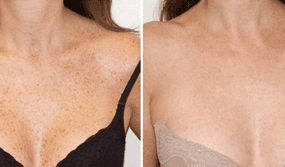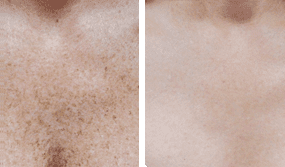 *Individual Results May Vary*
Have a question? Call or email me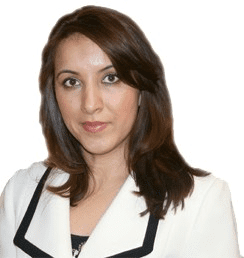 MSN, FNP AESTHETIC DIRECTOR & ADVANCED INJECTOR
Sign up for new, special offers and updates from Impressions MediSpa!
I have been a customer of Impressions for many years and I love all of their services. They are the nicest group I've ever dealt with and very fair price wise