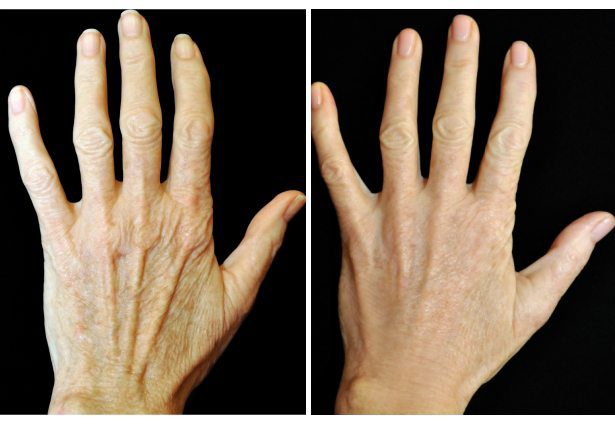 Do your hands look older than your age?  Hands are a true tale of someone's age and with time the hands begin to lose volume and the skin may become crepey.  When the hand ages they begin to show unsightly veins and bones.  Unfortunately, free radicals such as sun damage, pollution and the natural progression of agings decrease the amount of collagen and elastin in the hands. Radiesse dermal filler can turn back the hands of time and help restore lost volume and elasticity.
What Causes Aging Hands?
The epidermis of the skin thins out and as collagen and elastin product decreases the hands show visible aging with crepey skin, fine lines, and unsightly veins.  With the skin becoming lax one can also see underlying tendons and bones.  The are many factors that contribute to aging of the hands which can be genetics, sun exposure, use of chemicals and lost volume as we age. How a Radiesse Hands Treatment Restores Youthful Volume The active ingredient in the Radiesse dermal filler is calcium hydroxylapatite (CAHA), which is an injectable gel that is absorbed by the body over time.  With Radiesse one is able to see the results of replacement of lost volume immediately and over time the results improve because Radiesse stimulates new collagen.  The results of Radiesse hand treatment can last 12 to 18 months.